---
UX Research
UI Design
User Testing
Prototyping
Visual Identity

Grounded in user research, theoretical learning frameworks, and user testing, this digital learning platform takes users on a lighthearted, narrative-rich journey to bring even the toughest ambitions to fruition.
Spring 2022 (3 months)
Role — UI designer, Visual Designer, UX designer, UX researcher
Team — Sammie Kim, Lokesh Fulfagar, Natalie DeMaioribus
Tools — Figma, Miro


---
Priming even the most ambitious goal-setters for success.
Odyssey assists the everyday undergrad student to
craft an effective plan
for pursuing long-term goals.
Interact with the final prototype
here.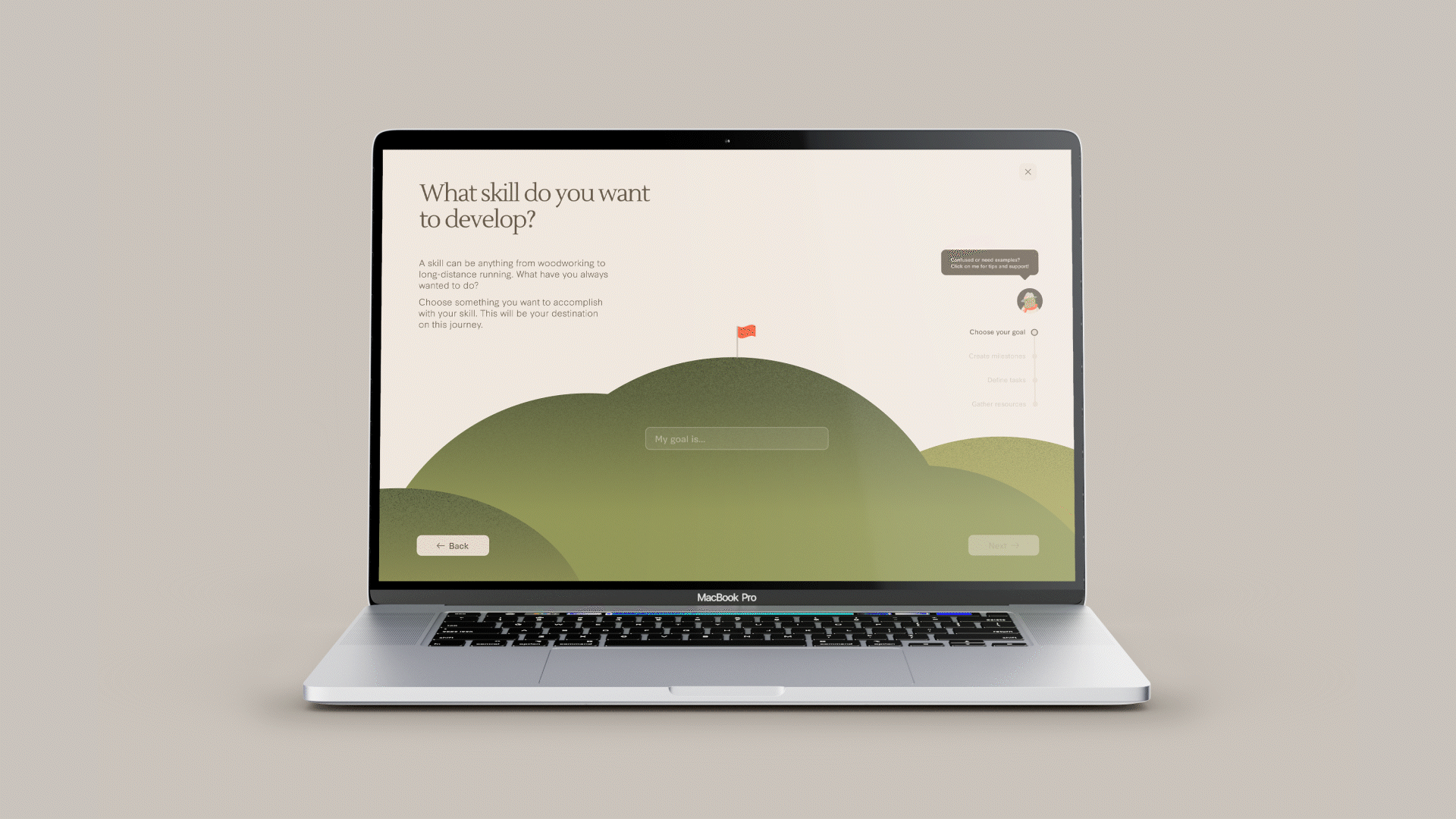 LEARNING FRAMEWORK

Based on existing pedagogical theories from Dirksen, Ambrose, and McCarthy, we devised a custom learning framework that targets initial scaffolding. This is the onboarding stage to support learners to prepare an effective plan for pursuing long-term goals.

LEARNING ASSISTANT


Meet Tori, the wise tortoise.
Tori is here to provide definitions, examples, and advice whenever learners need help during the onboarding process.


OVERVIEW 1/5 — ONBOARDING


Defining the Goal
Once learners fill in their long-term goal, they are prompted with a brief self-reflection where we ask them to imagine their future selves. This increases motivation in users by priming them to think about what values this goal will bring, and what excites them to pursue this.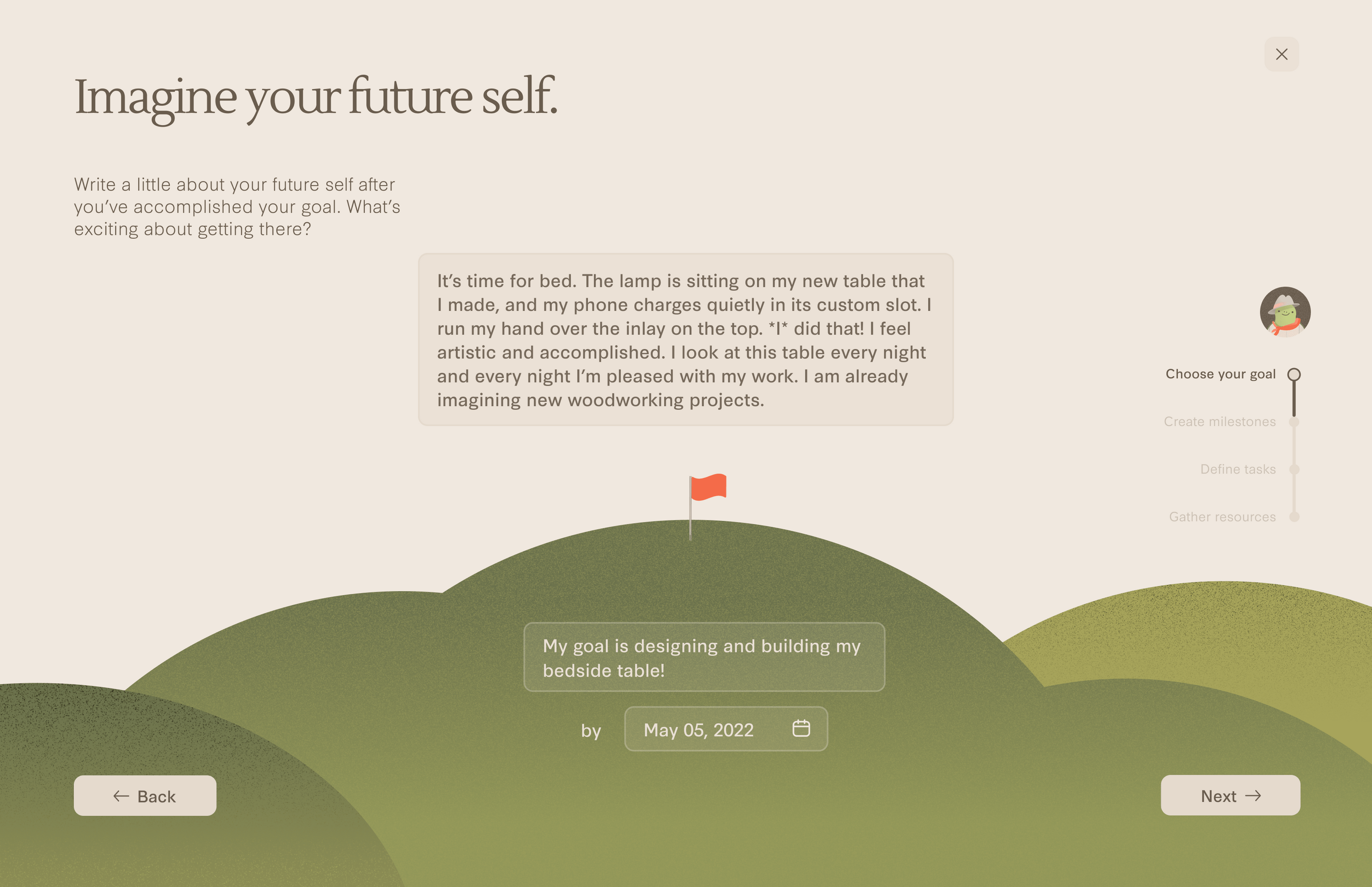 OVERVIEW 2/5 — ONBOARDING


Breaking Down the Goal
Users are guided through breaking down their long term goal into milestones and tasks, step by step. Milestones are measurable, intermediate actions that need to be taken in order to achieve the ultimate goal. The smaller tasks associated within each milestone are represented as flowers, where each petal indicates one practice session.

Eventually as learners document their work, flowers will bloom, a visual indicator of their progress.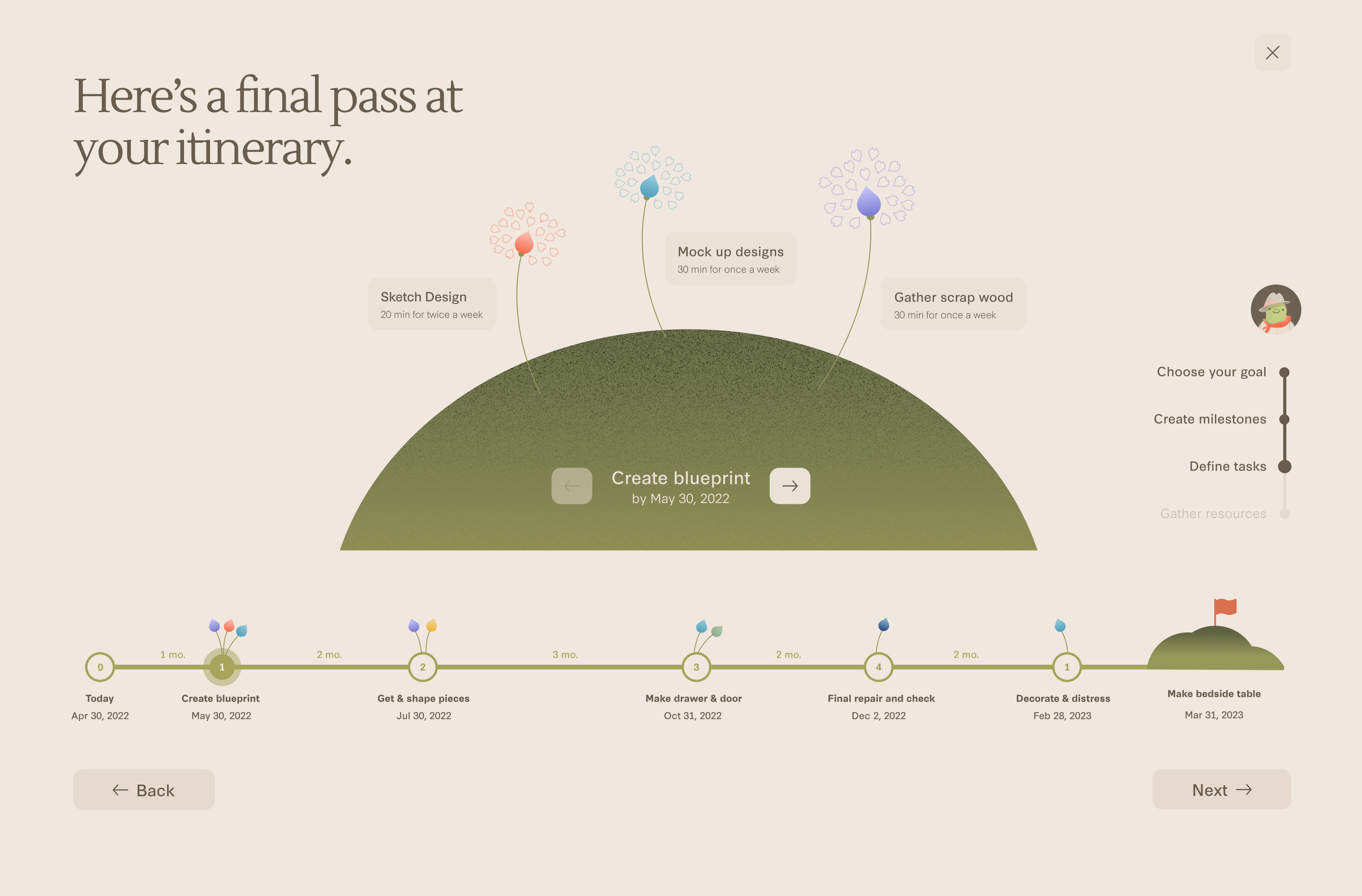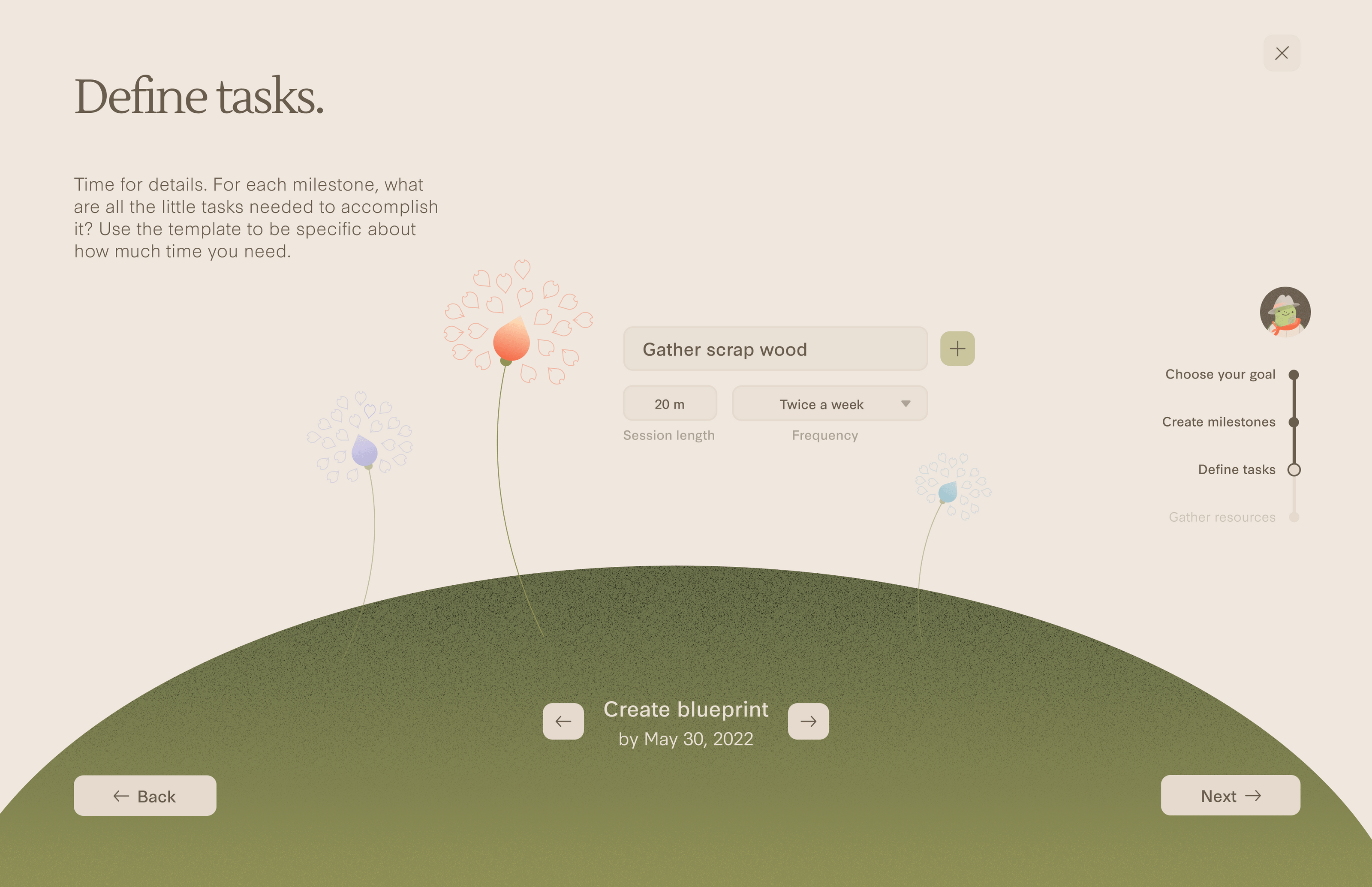 OVERVIEW 3/5 — ONBOARDING


Anticipating Setbacks
After learners plan their itinerary, they build a resilient support system prompted through self-reflection. In their virtual notebook, learners may note any prior concerns they have, but also potential ways to resolve them. This provides emotional scaffolding around the most overwhelming area of the learning journey, which is often when learners face setback.

OVERVIEW 4/5 — ONBOARDING


Integrate it into your Daily Schedule
There's no point in creating a detailed plan if it doesn't fit into your daily activities. Odyssey is able to sync with users' Google Calendar to fit practice sessions in your day.

OVERVIEW 5/5 — MAIN DASHBOARD


Embark on your Odyssey
The main dashboard consists of a short-term and a long-term view for users to maintain perspective. The daily view focuses on their current milestone and task, where learners document their practice sessions; the color and size of the petals correlate with the length and quality of practice. Conversely, the map view presents a full depiction of the journey and how far they have progressed.
---
CONTEXT


What's your new year's resolution success rate?
You may be comforted to hear that in a 2018 study of 1200 Americans, 91.3% didn't achieve their new year resolutions! In our own survey with 27 participants at CMU, 100% knew what long-term goals they want to pursue but none of them were completely successful and about 22.2% were slightly successful.
FRAMING LIFELONG LEARNING


What is an appropriate scope for the meta topic of lifelong learning?
Our group began gathering diverse questions and mapping them into high-level topics. We were initially curious about how people discover their interests and how they might sustain their learning through different strategies like self-discipline.